Abstract
Background
Several studies suggest that deviations from proper authorship practices are commonplace in medicine. The aim of this study was to explore experiences of and attitudes towards the handling of authorship in PhD theses at medical faculties in Denmark, Norway, and Sweden.
Methods
This open access paper, published  in December 2022, and the survey it reports points to a disconcerting problem in authorship and PhD training.  Even though this work was conducted in Scandinavia. Despite training of students in appropriate authorship practice (only awarding authorship to individuals who meet the standard of guidelines produced by bodies such as ICJME and COPE), the practice of awarding underserved authorship remains common to a troubling degree.  These poor results are unlikely to be only a bad sign for Scandinavia, we suspect that similar results would be found in other countries.  In addition to the obvious, they are of concern because they reflect a practice of encouraging students to commit research misconduct and also encouraging them to see standards as not applying to their research practice.
Those who defended their PhD thesis at a medical faculty in Scandinavia during the second half of 2020 were offered, by e-mail, to participate in an online survey. Survey questions dealt with experiences of violations of the first three of the ICMJE authorship criteria and misuse of authorship order in the thesis articles, as well as respondents' attitudes to these matters. Both questions with fixed response alternatives and questions with free-text responses were used. Quantitative data were analysed statistically using the Table functions in SPSS 25 and Chi-2 tests. Free-text responses were analysed qualitatively using manifest content analysis.
Results
287 valid questionnaires were returned (response rate: 34.1%). Almost half (46.0%) of the respondents reported that the ICMJE authorship criteria were not fully respected in at least one of the papers in their thesis, while a vast majority (96.7%) found it important that authorship is handled according to the ICMJE authorship criteria. 24.4% reported inadequate handling of authorship order in at least one paper. The qualitative results provide a wide spectrum of examples of how the ICMJE authorship criteria are circumvented.
Conclusion
Despite increasing educational efforts to reduce deviations from good research practice at Scandinavian universities, the handling of authorship in medical papers remains problematic.
Helgesson, G., Holm, S., Bredahl, L. et al. Misuse of co-authorship in Medical PhD Theses in Scandinavia: A Questionnaire Survey. J Acad Ethics (2022). https://doi.org/10.1007/s10805-022-09465-1
Publisher (Open Access): https://link.springer.com/article/10.1007/s10805-022-09465-1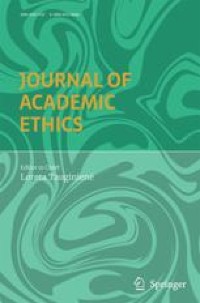 Misuse of co-authorship in Medical PhD Theses in Scandinavia: A Questionnaire Survey - Journal of Academic Ethics
Background Several studies suggest that deviations from proper authorship practices are commonplace in medicine. The aim of this study was to explore experiences of and attitudes towards the handling of authorship in PhD theses at medical faculties in Denmark, Norway, and Sweden. Methods Those who d…