Abstract
Using a database of open data policies for 199 journals in ecology and evolution, we found no detectable link between data sharing requirements and article retractions or corrections. Despite the potential for open data to facilitate error detection, poorly archived datasets, the absence of open code and the stigma associated with correcting or retracting articles probably stymie error correction. Requiring code alongside data and destigmatizing error correction among authors and journal editors could increase the effectiveness of open data policies at helping science self-correct.
Main

We like a lot of people thought that open data would improve the detection of errors in published research, as well as fabricated and falsified data, this open access Nature Ecology & Evolution paper (published in September 2022) suggests that might not be the case.  Nevertheless, we remain strong believers in the practice of open data and we believe institutions should encourage their researchers to make their data open.  We have included links to a long list of related items.
The benefits of open data for science and society are regularly discussed and observed, including validating research results1, identifying data anomalies2 and accelerating scientific discoveries3,4. While there is an increasing trend of researchers and journals embracing open data5, hurdles remain to achieving FAIR data sharing practices (that is, sharing findable, accessible, inter-operable and reusable open data6), including in ecology and evolution (E&E)7. For instance, aspects of journal data policies intended to promote open data practices, such as requiring a data availability statement, are not yielding expected results of increased data availability8. In addition, differences in the wording of data requirements across journals create ambiguities, with frequent misunderstandings about who is responsible for following up on breaches of open data policies set by academic journals9,10. These challenges suggest a need for a routinely updated, easy-to-comprehend database of journal data policies in E&E.
Strong editorial data policies by journals require authors to publicly share the data needed to reproduce published results as a condition of article acceptance. Having access to the data underlying scientific studies increases the opportunity for researchers and other stakeholders to explore, validate and reproduce published findings7,11. In some cases, unidentified errors in the data and/or analyses that slipped through the peer-review process can be detected1,12. These errors may vary in their severity, ranging from small differences in reported effect sizes to major changes in the magnitude and/or direction of effects. Error detection can lead to published corrections that inform readers of changes to original findings, or retractions of a study when results are no longer valid.
Berberi, I., Roche, D.G. (2022) No evidence that mandatory open data policies increase error correction. Nature Ecology & Evolution. https://doi.org/10.1038/s41559-022-01879-9
Publisher (Open Access): https://www.nature.com/articles/s41559-022-01879-9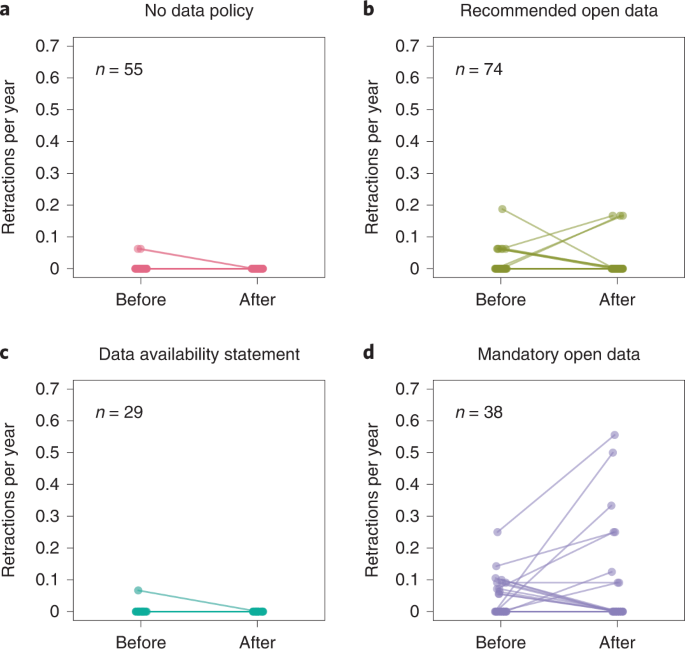 No evidence that mandatory open data policies increase error correction - Nature Ecology & Evolution
An analysis of 199 journals in ecology and evolution finds no link between policies mandating data sharing and the rate of article retraction or correction. The authors position this finding in a broader discussion of open data and code.