This Open Access paper from Germany published in August 2021 touches on an interesting question:  Why aren't philosophers included as required members in research ethics committees?  This research explores the question of how those philosophers included without mandated inclusion see their role?
Abstract

Research ethics committees in Germany usually don't have as members and if so, only contingently, not provided for by statute. This is interesting from a philosophical perspective, assuming that ethics is a discipline of philosophy. It prompts the question what role philosophers play in those committees they can be found in. Eight qualitative semi-structured interviews were conducted to explore the self-perception of philosophers regarding their contribution to research ethics committees. The results show that the participants generally don't view themselves as ethics experts. They are rather unanimous on the competencies they think they contribute to the committee but not as to whether those are philosophical competencies or applied ethical ones. In some cases they don't see a big difference between their role and the role of the jurist member. In the discussion section of this paper I bring up three topics, prompted by the interviews, that need to be addressed: (1) I argue that the interviewees' unwillingness to call themselves ethics experts might have to do with a too narrow understanding of
ethics expertise
. (2) I argue that the disagreement among the interviewees concerning the 
relationship between moral philosophy and applied ethics
 might be explained on a theoretical or on a practical level. (3) I argue that there is some lack of clarity concerning the 
relationship between ethics and law
 in research ethics committees and that further work needs to be done here. All three topics, I conclude, need further investigation.
Keywords
Ethics committees, Ethics expertise, Medical ethics, Applied ethics, Relationship between medical ethics and healthcare law
Gauckler, C. (2021) Philosophers in research ethics committees—what do they think they're doing? An empirical-ethical analysis. Medicine, Health Care and Philosophy https://doi.org/10.1007/s11019-021-10044-1
Publisher (Open Access): https://link.springer.com/article/10.1007%2Fs11019-021-10044-1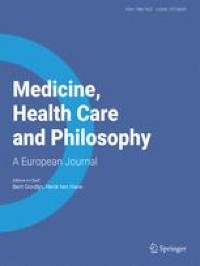 Philosophers in research ethics committees—what do they think they're doing? An empirical-ethical analysis - Medicine, Health Care and Philosophy
Research ethics committees in Germany usually don't have philosophers as members and if so, only contingently, not provided for by statute. This is interesting from a philosophical perspective, assuming that ethics is a discipline of philosophy. It prompts the question what role philosophers play in…