Abstract
Background
Today, scientists and academic researchers experience an enormous pressure to publish innovative and ground-breaking results in prestigious journals. This pressure may blight the general view concept of how scientific research needs to be done in terms of the general rules of transparency; duplication of data, and co-authorship rights might be compromised. As such, misconduct acts may occur more frequently than foreseen, as frequently these experiences are not openly shared or discussed among researchers.
Main body

It has been observed before that the systems to track and reward research activity (specifically research outputs) are fuelling research misconduct and distorting science. This open access paper published in August 2022 suggests that the same forces are disincentivising researchers from sharing if they are aware of misconduct or distorted reporting.  We have included links to six related items.
While there are some concerns about the health and the transparency implications of such normalised pressure practices imposed on researchers in scientific research, there is a general acceptance that researchers must take and accept it in order to survive in the competitive world of science. This is even more the case for junior and mid-senior researchers who have recently started their adventure into the universe of independent researchers. Only the slightest fraction manages to endure, after many years of furious and cruel rivalry, to obtain a long-term, and even less probable, permanent position. There is an evil circle; excellent records of good publications are needed in order to obtain research funding, but how to produce pioneering research during these first years without funding? Many may argue this is a necessary process to ensure good quality scientific investigation, possibly, but perseverance and resilience may not be the only values needed when rejection is received consecutively for years.
Conclusion
There is a general culture that scientists rarely share previous bad experiences, in particular if they were associated to misconduct, as they may not be seen or considered as a relevant or hot topic to the scientific community readers. On next, a recent misconduct experience is shared, and a few additional reflections and suggestions on this topic were drafted in the hope other researchers might be spared unnecessary and unpleasant times.
Alfaro-Núñez, A. (2022) Deceiving scientific research, misconduct events are possibly a more common practice than foreseen. Environmental Sciences Europe. 34(76). https://doi.org/10.1186/s12302-022-00659-3
Publisher (Open Access): https://link.springer.com/article/10.1186/s12302-022-00659-3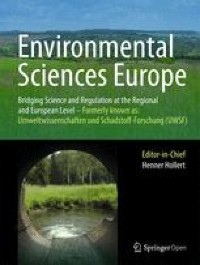 Deceiving scientific research, misconduct events are possibly a more common practice than foreseen - Environmental Sciences Europe
Background Today, scientists and academic researchers experience an enormous pressure to publish innovative and ground-breaking results in prestigious journals. This pressure may blight the general view concept of how scientific research needs to be done in terms of the general rules of transparency…