NSWHSB EXTERNAL SEMINAR SERIES 2022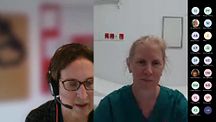 LisaParker20220510.mp4
NSWHSB EXTERNAL SEMINAR SERIES 2022 " How to be a Research Detective – screening studies for fake research " About this event Dr Lisa Parker is a university researcher and ethicist at School of Pharmacy, Charles Perkins Centre, The University of Sydney, New South Wales, Australia and Centr…
About this event
Dr Lisa Parker is a university researcher and ethicist at School of Pharmacy, Charles Perkins Centre, The University of Sydney, New South Wales, Australia
and
Centre for Bioethics and Humanities, University of Colorado Anschutz Medical Campus, Colorado, USA , with particular interests in health ethics, research ethics and industry influences in health.
She is also a medical clinician working in oncology.
This excellent talk discusses how a researcher can detect if a piece of research is shonky and should be avoided and not cited.  This is a very practical talk and well worth a listen.  A worthy inclusion in an institution's Research Integrity Resource Library. We have included links to four related items.